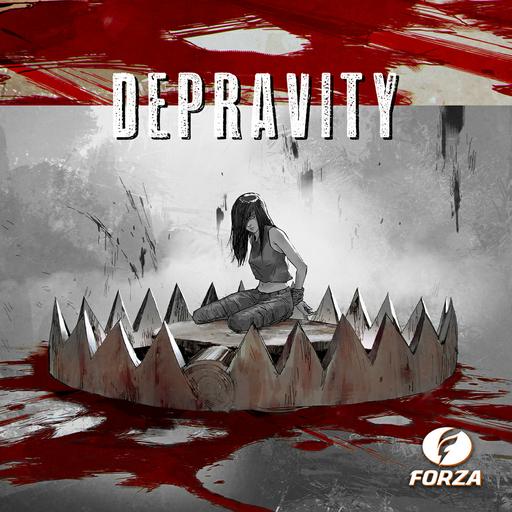 Depravity – Forza Trailer & Sound Design
Blend of sound design and ominous drones. Impending doom and evil.
Dark, Ominous, Serious, Strange, Violent, Tense, Evil
Style:
Drama: Crime, Horror, Trailers
Keywords:
Scary, Creepy, Odd, Violence, Haunt, Haunting, Brood, Brooding, Eerie, Tension, Foreboding, Unsetting, Ominous.
Tracks:
1) Fear The Dark – Sinister presence increasingly becomes horrific. Repeating hypnotic sounds draw you deeper into evil happenings.
2) Delirium And Death – Sinister and dark presence. Huge impacts and nerve racking scrapes with monstrous violent intent.
3) Criminal Intimacy – Dark and eerie drones creep in. Rhythmic textures and unnerving synth tones build in suspicion and tension.
4) Illicit Underground – Repeating big impacts and unsettling drones set a dark and violent tension. Impending danger and intense horror.
5) Deep Infiltration – Suspicion and dark mystery surrounds building percussion intensity. Getting closer to danger.
6) Biological Threat – Low ominous drone draws dangerously closer. Metallic rhythms and unsettling tones keep an anxiously dark suspense.
7) Evil Guru – Demented soundscapes and twisted textures come closer into focus. Mysterious piano melody at 0:51, building percussion intensity to a climax.
8) Suspicious Behavior – Foreboding crime and horror soundtrack with a suspicious melody and sparse but threatening percussive effects.
9) Murder Passion – Malicious textures carry a tense and dark mood throughout with slowly evolving percussive impact intensity.
10) Incorruptible – Dark atmospheric intro with foreboding impacts and fast-beating heart rhythm beginning at 1:11.
11) Reluctant Murderer – Rhythmic slicing and cutting effect increasingly becomes disturbed and violent.
12) Vintage Homicide – Slow pulsing crime and paranormal tension track with a slight retro slant. Strange synth lead, churning dark percussive effects.
More keyboard_arrow_down
Less keyboard_arrow_up
---
Purchase album keyboard_arrow_down
---